Composers Collective


Composer David Gordon was inspired to create the Look + Listen Festival while attending one of composer Joan Tower's Second Helpings concerts at the DIA Center. Captivated by how the intimacy of the space and extended viewing of the visual art enhanced and deepened the concert experience, he worked with Sean Carson to produce the first Look + Listen Festival in 2002.
They were joined by Sarah Kirkland Snider, Kristen Hevner, and Ryan Dorin and created the Look + Listen Composers Collective, a group of distinguished composers who serve as advisors and consultants, and oversee the Composers Competition each year.
The current members of the Composers Collective are: Michael Brown, Sean Carson, Phyllis Chen, Suzanne Farrin, David Gordon, Jason Treuting, and Sebastián Zubieta (Chair/Director).
About the Composers
Michael Brown

Appeared on 2012 L+L Festival playing his own Constellations and Toccata (2012) and Homage to Mompou (2007), and Mompou's Cancion y danza no. 9. In 2013, premiered a co-commissioned work by Look + Listen and Concert Artists Guild with cellist/filmmaker Nicholas Canellakis for cello and piano to an original film entitled Self-Portrait. With Nicholas Canellakis, also performed Lutoslawski's Grave and Gankino Horo, a Bulgarian Traditional arranged for cello and piano by Nicholas Canellakis. Also performed George Perle's Short Sonata (1964) for solo piano.
Website; Recording of Five A.M. (after Allen Ginsberg) for cello and piano
Sean Carson
Phyllis Chen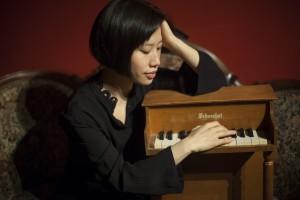 Praised by The New York Times for her "delightful quirkiness matched with interpretive sensitivity," Phyllis Chen is a pianist, toy pianist and composer who performs contemporary original multi-media works. Chen's artistic pursuits have led to her selection as a New Music/New Places Fellow at the 2007 Concert Artists Guild International Competition. She has appeared at world music festivals, international piano festivals, public art projects like Theatre for One, and as a solo musician in the Off-Broadway production of Coraline. Chen just released her third solo toy piano album, Little Things , on New Focus Recordings.
Suzanne Farrin
Composer Suzanne Farrin's music has been called "appealingly tart" by The New York Times and Time Out Chicago praised her "seductive harmonic language." She is writing an operatic monodrama for ICE and countertenor Anthony Roth Costanzo for 2014. Her works have been performed by the American Composers Orchestra, Arditti Quartet, Derek Bermel, So Percussion, Parker String Quartet, Mark Stewart and Steve Mackey, among others. Her music has been heard at the Mostly Mozart, Music Mountain, Look + Listen and Philadelphia Fringe Festivals, Town Hall Seattle and Carnegie's Weill Hall. Her work has been supported by the Rockefeller Foundation, Meet The Composer, Wachovia Foundation and Concert Artists Guild. Her debut album, Corpo di Terra (New Focus Recordings), was released in 2012. Suzanne Farrin is Associate Professor of Composition and Director of the Conservatory of Music at the State University of New York (SUNY) Purchase.
David Gordon

David founded Look + Listen and served as President for the first 10 years before moving to Chair of the Board in 2011. He also served as President of the League/ISCM from 2008-2011, when he launched the Orchestra of the League of Composers as well as Residency, Membership, and Commissioning Programs.
In 2002, David founded Pinnacle Prep, a premium test prep company that provides premium tutoring for the SAT, ACT, and other standardized tests as well as academic tutoring. Pinnacle Prep currently has over 40 employees and works with students throughout the US and Internationally.
Included in David's artistic background are a novel he wrote entitled The Canvas, a documentary he directed and edited called Mitia, which is shown by the Spertis Museum in Chicago to Holocaust survivors, and numerous works of music.
Born in Illinois in 1969, David earned his M.A. in music composition in 2000 at New York University, where he studied with Charles Wuorinen, Martin Boykan, Louis Karchin, and Elizabeth Hoffman.
Jason Treuting
Sebastián Zubieta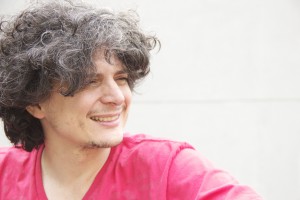 Sebastián Zubieta's music has been performed in Europe, Asia, Latin America, and the US by musicians including Continuum Ensemble, ICE, the Momenta Quartet, Antoine Tamestit, and Joshua Rubin. He has received commissions from ICE, the Centro Cultural General San Martín, the Centro de Experimentación del Teatro Colón, the NY Miniaturist Ensemble, and others.
Zubieta is the conductor of Meridionalis, a vocal group dedicated to Latin American early music. Also active as a musicologist, he has been invited to present papers at conferences in Belgium, the US, and Cuba. He holds a doctorate in composition from Yale and a licentiate in musicology from the Universidad Católica Argentina. Zubieta is currently the Music Director at Americas Society in NY and Chair/Director of the Look + Listen Composers' Collective.