In the interest of the health and safety of our community, the 2020 Look + Listen Festival has been postponed. We are currently working with our fantastic artists and venue partners to reschedule and look forward to gathering again to share the exciting performances we have planned for you! In the meantime, for those who are able, please consider making a gift to Look + Listen to help us share the Festival free of charge with as many New Yorkers as possible when the time is right.
And head on over to our Soundcloud and Youtube pages to check out the wealth of performances from past Festivals!
Take care and be well,
The Look + Listen Festival

Look + Listen is proud to announce its 2020 Spring Festival with three performances at art spaces throughout New York City on April 23 and 25 and May 2, featuring a stellar roster of emerging and established musical and visual artists. Continuing Look + Listen's commitment to access to the finest in contemporary music and art, all performances are free and open to the public. The Festival continues its collaboration with Brooklyn's Invisible Dog Art Center and is thrilled to introduce partnerships with Red Hook's Pioneer Works and Revelation Gallery in Greenwich Village. The Festival will feature the world premieres of a Look + Listen commission from composer Nicole Lizee; the premiere of the winning score of Look + Listen's annual Call for Collaboration reinterpreted by NYC rhythm-based dance troupe The Bang Group; and three newly-commissioned iterations of an audio-visual Ambient Experience by composer Danny Clay and artist Jon Fischer.
Reservations are highly recommended and will open on this page March 23.
2020 Ambient Experience
The 2020 Ambient Experience is a series of three newly-commissioned Turntable Drawings, an ongoing collaboration between San Francisco-based visual artist Jon Fischer and composer Danny Clay. Centered on a growing collection of hand molded, playable records and improvised performances, the project has been presented in conjunction with over twenty guest artists in many forms at venues including the Walker Center for the Arts and the de Young Museum since 2016. 
These new iterations of the Turntable Drawings will receive their world premiere at each of the three venues as a unique through-line to the festival. Each work is a pre-show intervention that invokes the Jewish concept of haMakom ("the place") using live musicians, physical imprints, and video. Built around a series of temporary installations, these ambient performances use loops as the raw material to explore the connections between replication, music, and beauty.
Commissioned Ambient experiences are a hallmark of the Look + Listen Festival, enhancing the concert experience by commissioning artists to create an atmosphere inviting dialogue and connection between audience members, performers, and composers for each performance.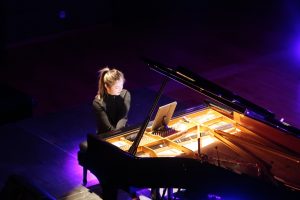 Piano Pioneers
Three radical looks at the piano
Thursday, April 23rd, 7:30pm
Pioneer Works
Red Hook, Brooklyn
The 2020 Festival opens with Look + Listen's first-ever collaboration with Red Hook's Pioneer Works, an artist-run cultural center that opened its doors to the public, free of charge, in 2012. Its central hall is home to a rotating schedule of exhibitions, science talks, music performances, workshops, and innovative free public programming.
Three trailblazing pianists will offer their unique perspectives on the possibilities offered by this most traditional of classical instruments. Vicky Chow, pianist for Bang on a Can All-Stars, expands the sonic landscape with works by Evans and Basanta which involve preparing the piano and incorporating transducers. 2019 recipient of the Lincoln Center Award for Emerging Artists Adam Tendler brings voice and physicality to the instrument with a performance of the rarely-heard solo piano version of Rzewskii's Coming Together and Kagel's Metronome. 
Finally, Kathleen Supové, known for her multimedia solo recital series The Exploding Piano, will perform the world premiere of 2020 Look + Listen Commissioned arrangement of Nicole Lizeé's Tarantino Etudes for piano, electronics, and video. 
All three pianists will then come together to jointly improvise with the Turntable Drawings installation. Piano Pioneers will be hosted by Phyllis Chen, Look + Listen board member and former Artistic Director and noted pianist and composer. Reservations for this event can be made here.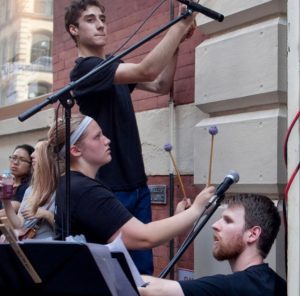 Studies in Contrast
Music of innocence and experience
Saturday, April 25th, 4:00pm
Revelation Gallery
Greenwich Village
Look + Listen is thrilled to begin a partnership with Revelation Gallery, a new intimate gallery space at the intersection of the West Village's vibrant cultural community. The Gallery will feature a show of photographs by Sean Watters, a New York City artist whose solo exhibition "I Have a Tale to Tell" recently debuted in Paris and was produced by René-Julian Praz for the Éspace Fondation EDF. Watters' black and white images from the Tonlé Sap region in Cambodia intimately depict the lives of the river-peoples who live on the lake and the river system.
In this space, Look + Listen performances will balance youth with experience, and the different kinds of freedom inherent in spontaneity and precise notation. Mantra Youth Percussion, high-school-age performers under the guidance of noted new music ensemble Mantra Percussion, brings the next generation's perspective to a set of new works commissioned specifically for them by composers such as 2019 Festival Artist Angélica Negrón, Jenny Beck, Deerhoof drummer Greg Saunier, and Allison Loggins-Hull. 
Next up is Ensemble Échappé, a versatile group of soloists dedicated to presenting an eclectic spectrum of 20th and 21st century music. Échappe's highly virtuosic set will perform works by Tania León, Marcos Balter, and a world premiere by Nina C. Young.
Studies in Contrast will be hosted by Kate Sheeran, Executive Director of the Kaufman Music Center, hornist, and former Provost and Dean of the San Francisco Conservatory of Music.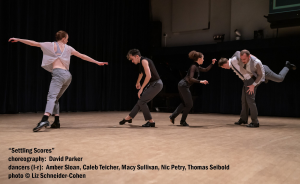 Heard to be Seen
Intersections between the visual and the sonic
Saturday May 2, 7:30pm
The Invisible Dog Art Center
Boerum Hill, Brooklyn
To close the Festival, Look + Listen is proud to continue its collaboration with the Invisible Dog Art Center, housed in a three-story former factory building in Brooklyn's Boerum Hill. The Invisible Dog is dedicated to the integration of innovation in the arts with profound respect for the past.
Hosted by WQXR's Terrance McKnight, Heard to be Seen melds the visual and the audible through a compelling set featuring dance, movement, and sound-inspired prints. Pianist Tristan McKay performs Tristan Perich's Dual Synthesis for harpsichord and electronics. Alongside, McKay will debut 21 prints, derived from the play-by-color system from Schoenhut toy pianos, which visualize Perich's meditative, colorful work.
Reprising their dynamic 2019 Look + Listen collaboration, rhythm-driven, New York-based dance company The Bang Group returns with a new set of experimental tap performances inspired by musical scores including a reimagining of Dean Rosenthal's 'Perfect For…'. The company will present a world premiere reinterpretation of bulbble by composer Viola Yip, winner of the 2020 Look + Listen Call for Collaboration.
Composer, vocalist, and multi-instrumentalist Paul Pinto closes the Festival in the world premiere of a solo set fusing voice, video, and movement. Pinto's work is focused on creating an innovative and engaging new form of opera-theater that fuses the musicality of American speech, poetry, classical music, extended vocal techniques, and electronic sound art.