LOOK + LISTEN FESTIVAL NAMES COMPOSERS AARON HELGESON AND JOHN GLOVER AS NEW DIRECTORS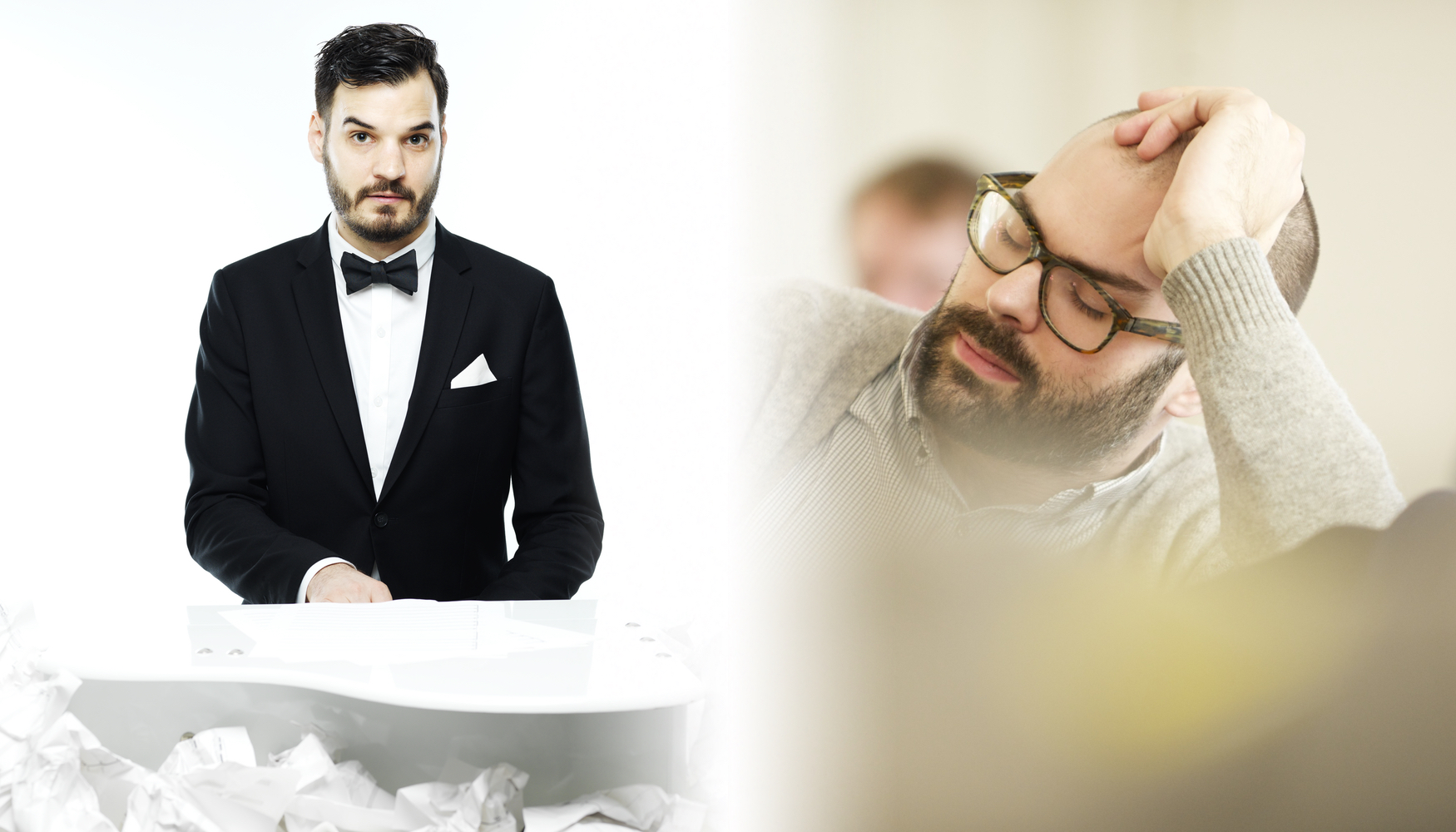 Aaron Helgeson (left), John Glover (right)
photos by Aleksandr Karjaka (left), Jill Anna Ponasik (right)
DEC 15, 2018 (NEW YORK, NY) — The Look + Listen Festival, New York's annual showcase of contemporary music in visual art spaces, announces the hiring of composers Aaron Helgeson and John Glover to helm the organization in advance of its May 2019 season.
Executive Director Aaron Helgeson joins the festival with a long track record as a leader and educator in the arts. Helgeson founded the Northern Ohio Youth Orchestra Young Composers Program, a tuition-free composition course for high school students and commissioning program dedicated to furthering new repertoire for youth orchestras. A composer whose own work finds new ways of engaging with old musical traditions, he's also served as Manager of San Diego's Camera Lucida Chamber Music Series, with faculty appointments at the Oberlin Conservatory of Music, Longy School of Music of Bard College, and New York University.
"I started producing concerts when I was 16 years old," says Helgeson. "The one thing that's stayed the same is the need to keep changing. Unconventional performance spaces have become the norm in New York, but what keeps Look + Listen fresh is its engagement with the communities in those spaces. Rather than simply using new venues for a typical concert experience, we're flipping the script by offering contemporary music as an occasion for audiences to sample and talk about what's cutting edge across a variety of disciplines."
No stranger to that variety, Resident Artistic Director John Glover brings an all-embracing approach to his festival programming. As a composer, he's created music for the Houston Grand Opera, toy-pianist/composer and outgoing Look + Listen Artistic Director Phyllis Chen, choreographers Dylan Crossman and Amber Sloan, NYC's On Site Opera, with a current collaborative project for violinist Andie Springer and puppeteer Dorothy James. Currently the Vice President and Director of the DiMenna Center for Classical Music, Glover brings his love of New York's culture to his work at Look + Listen.
"I'm thrilled to collaborate with this incredible institution," says Glover, "and to concoct three evenings of music in some of my favorite art spaces in the city. Most exciting of all, we're offering these programs for free to our audiences."
Board President Amanda Cooper praises the new directors' eclecticism. "John's been a friend of the festival for years as a featured artist and advocate for our diverse and accessible programming, and Aaron brings a broad creative perspective from his years as a teacher and leader in the field. Their artistic vision as composers, matched with many years of administrative experience, is invaluable to Look + Listen. We can't wait to see (and hear) what they have in store!"
After Look + Listen's nearly two decades of presenting new music alongside contemporary visual art, the two incoming directors hope to infuse the festival's format with what Helgeson calls an "extra-disciplinary" approach to programming.
"One of our goals going forward is to find ways of dismantling barriers between different genres, distinctions between composers and performers, even doing away with the idea of music as distinct from other art forms," says Helgeson. "With more and more discussions about revising what it means to be an artist in the 21st Century, we're putting our music where our mouth is."
In the fourth year of its free ticketing initiative, the 2019 Look + Listen Festival will take place May 3, 5, and 10 in art venues throughout Brooklyn. Highlights include:
cellist and Seattle Symphony Artist-in-Residence Seth Parker Woods performing composer Nathalie Joachim's Dam Mwen Yo documenting women from her Haitian musical heritage, and MacArthur Fellow George Lewis' Not Alone with improvising software

multi-instrumentalist and Orlando Philharmonic Composer-in-Residence Angélica Negrón performing songs for voice, percussion, and electronics that reflect on her native Puerto Rico

composer/saxophonist/improviser Darius Jones presenting his new Myth: Angels and Demons, a musical response to revolutionary texts by Sun Ra

tap dance realizations of modern classics like Steve Reich's Clapping Music and Morton Feldman's For John Cage by The Bang Group
"The artists on this season's programs each respond to, engage, and share with the communities they live and work in," says Glover. "Our programming is intended as a reflection of today's inspired and diverse contemporary music-making and how it intersects with the inventive spaces of New York City's art scene."
A full season lineup including artist and venue information will be announced in early 2019.