current season
The 2016 Look & Listen Festival
Please check back for details in the fall!
________________________________________

The 2015 Look & Listen Festival took place on
May 1 – May 3, 2015 

with concerts at
BRIC House
and
Whitebox Art Center
The 2015 Festival photographer was Steven Schreiber
The 2015 Festival Program Booklet is available for download

Friday, May 1, 2015 at BRIC House

For our opening night we were thrilled to return to the phenomenal art venue BRIC House in Downtown Brooklyn for an evening hosted by Helga Davis. L&L alum So Percussion played Bryce Dessner's Music for Wood and Strings; Miya Masaoka premiered her own work, Prelude, Bones for koto, voice, temple blocks, and electronics; and the Brothers Balliett Ensemble presented the world premiere of the cantata Jezebel the Proud for soprano, two English horns, bassoon, cello, and guitar written by the identical twin Balliet brothers. The evening also featured interviews with the performers and visual artist Jennifer Maravillas.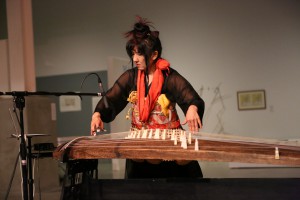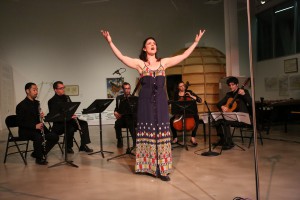 Saturday, May 2, 2015 at Whitebox Art Center

In this first collaboration with the singular Whitebox Art Center we were able to bring the Festival to the Lower East Side! The Daedalus Quartet performed Anna Weesner's The Space Between and Luke Carlson's Edges; virtuoso accordionist William Schimmel performed his own work, Parousia; and the percussion group Talujon gave the New York premiere of Daniel Fawcett's Riotous Thrashing, winner of the Look & Listen 2015 Composers Competition, as well as Anna Thorvaldsdottir's Aura – three sides of the same being. Evening host Fred Sherry lead interviews with several of the composers as well as visual art curator Maximillian William.
Sunday, May 3, 2015 at Whitebox Art Center

We rounded out the Festival with a packed evening, hosted by Terrance McKnight at Whitebox. Violinist Miranda Cuckson played Mikka S by Iannis Xenakis, Nocturne by Kaija Saariaho, and Inscriptions by Shulamit Ran. Cuckson was then joined by pianist Cory Smythe performing Franco Donatoni's Ciglio III. Cellist Jeffrey Zeigler and percussionist Jason Treuting performed Paola Prestini's Quiet and gave the world premiere of Jason Treuting's Block and Line, the Look & Listen 2015 Commission. Tyshawn Sorey Trio presented excerpts from Alloy and Minutiae by Tyshawn Sorey. The evening also featured interviews with Jason Treuting, Miranda Cuckson, visual artist Slvstr©, and the Tyshawn Sorey Trio.