current season
The 2017 Look + Listen Festival
May 18-21 2017!
Details coming shortly.
---
The 2016 Look + Listen Festival took place on
April 29 – 30 and May 6
The 2016 Festival Season Photographer was Steven Schreiber
The 2016 Program Booklet is available for download
Friday, April 29, 2016 at BRIC House
On Friday, April 29 at BRIC House, Fred Sherry hosted the Festival's opening night. Audiences heard ambient music by So Percussion. The percussion and piano quartet Yarn/Wire performed Mind is Moving by Chiyoko Szlavnics; pianist Saskia Lankhoorn performed selections by Kate Moore from her recent ECM release entitled Dances and Canons; and Hollerbrag performed Music for Double Bass, J. Alexander Brown's winning piece of the 2016 Composers Competition. The evening also featured interviews with the performers and interdisciplinary artist Audra Wolowiec whose piece The Music of the city is free was the visual representation of the 2016 L+L Festival. Her posters, originally seen at BRIC in 2014, were given out all through the festival.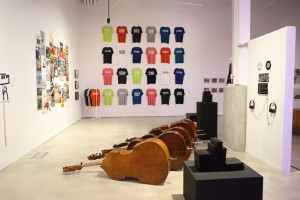 Saturday, April 30, 2016 at BRIC House
In honor of our 15th anniversary, the second night of the Festival offered a "retrospective evening" presenting works performed at past L+L concerts. Harpist Bridget Kibbey performed Kaija Saariaho's Fall; oboist James Austin Smith joined Bridget on Elliott Carter's Trilogy; Mike Lormand, Ryan Muncy, and Art Bailey presented Driving Force by 2011 Composers Competition winner Zibuokle Martinaityte; and members of Meredith Monk and Vocal Ensemble and The M6 offered selections from Book of Days. Terrance McKnight was the host of the evening and interviewed the performers, composers, and Kenyan-Indian-Canadian hybrid artist Brendan Fernandes.
Friday, May 6, 2016 at The Invisible Dog Art Center
Phyllis Chen curated the third and final concert of the Festival around the theme of "unusual spaces." The concert was held at The Invisible Dog Art Center and was hosted by Helga Davis. The program featured Chen performing two world premieres that L+L aided in commissioning: Caccia by Jo Kondo, commissioned by New Music USA; then The Matter Within, written by Chen and commissioned by NYSCA and New Music USA, featuring Chen and JACK Quartet. JACK Quartet also performed John Luther Adams' The Wind in High Places. Bassoonist Rebekah Heller performed Nathan Davis' On speaking a hundred names, and scientist/musician/instrument-builder Daniel Jodocy improvised on his musical suitcases. The evening was part of The Invisible Dog's Annual Open Studio Show, the 7th annual exhibition of all Invisible Dog artists-in-residence and open studios. The night featured interviews with performers, visual artist Douglas Adesko, and renowned composer John Luther Adams.