current season
Announcing
The 2016 Look + Listen Festival
Friday, April 29, 2016 @ 8 PM
BRIC House
647 Fulton Street, Brooklyn
Saturday, April 30, 2016 @ 8 PM
BRIC House
647 Fulton Street, Brooklyn
Friday, May 6, 2016 @ 8 PM
The Invisible Dog Art Center
51 Bergen Street, Brooklyn
In celebration of our 15-year anniversary,
all Festival concerts are free!
Also this Festival, Look + Listen partners with visual artist Audra Wolowiec,
whose piece The Music of the City is Free will be given out at all events.
This art piece was previously a part of a 2014 BRIC House installation
during L+L, and the work will be used all season, as the Festival's 15th
anniversary visual representation.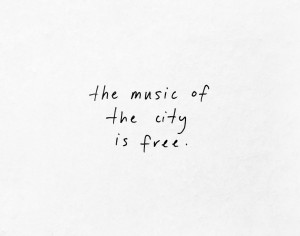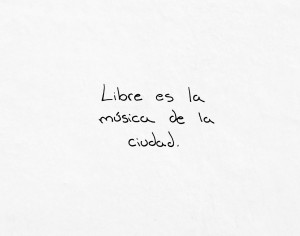 Friday, April 29, 2016
BRIC House
Doors open @ 7:30 PM
Concert @ 8 PM
For our opening night, we are thrilled to return to the phenomenal BRIC House in Fort Greene, Brooklyn. We welcome the percussion and piano quartet Yarn/Wire as they perform Chiyoko Szlavnics' Mind is Moving. Also on the program is pianist Saskia Lankhoorn performing selections by Kate Moore from her recent ECM release entitled Dances and Canons, and Hollerbrag in a performance of J. Alexander Brown's Music for Double Bass, winning piece of the 2016 Composers Competition.
Saturday, April 30, 2016
BRIC House
Doors open @ 7:30 PM
Concert @ 8 PM
In honor of our 15 years, day 2 of the Festival is a "retrospective" concert featuring selections from an array of past L+L events. Harpist Bridget Kibbey performs Kaija Saariaho's Fall. She is then joined by oboist James Austin Smith for Elliott Carter's Trilogy. Also on the program is members of Meredith Monk and Vocal Ensemble and The M6 performing selections from Book of Days. Finally, we have the performance of a favorite past Composers Competition winner from 2011, Driving Force by Zibuokle Martinaityte and performed by Mike Lormand, Ryan Muncy, and Art Bailey.
Friday, May 6, 2016
The Invisible Dog Art Center
Doors open @ 7:30 PM
Concert @ 8 PM
To close out the season we return to the singular Invisible Dog Art Center in Cobble Hill, Brooklyn. Festival favorite Phyllis Chen curates an evening around the theme of "unusual spaces." The program features Chen performing two world premieres that L+L aided in commissioning: Caccia by Jo Kondo, commissioned by New Music USA; then a new original work, commissioned by NYSCA and New Music USA, featuring Chen and the JACK Quartet. The JACK Quartet also performs John Luther Adams' The Wind in High Places. Also on the program is bassoonist Rebekah Heller performing Nathan Davis' On speaking a hundred names, and scientist/musician/instrument-builder Daniel Jodocy presenting his musical suitcases. The evening is part of Invisible Dog's Annual Open Studio Show, the 7th annual exhibition of all Invisible Dog artists-in-residence and open studios.