2017 – Pratt Manhattan Gallery, BRIC House & the Studio Museum in Harlem
The 2017 Festival Season Photographer was Steven Schreiber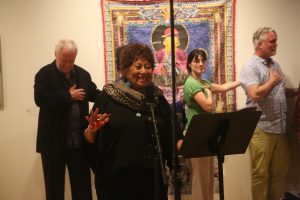 For the second year in a row, we offered all concerts FREE of charge!
Opening Night took place at the Pratt Manhattan Gallery where we enjoyed performances by Miranda Cuckson, yMusic and Battle Trance. As a special tribute to Pauline Oliveros special guest, Ione from the Deep Listening Institute led the deep listening ritual The Heart Chant. The evening was hosted by Bill McGlaughlin and conducted lively interviews with Miranda Cuckson, Louis Karchin, Nadia Sirota (from yMusic), Travis Laplante (form Battle Trance), as well as photography professor John Lehr from Pratt. The music was in harmony with the photography exhibition titled The Era of Good Feelings.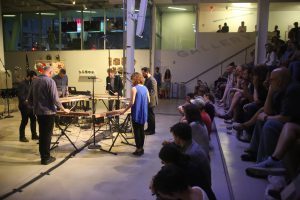 Our second concert took place at BRIC House in Brooklyn. The evening began with an excerpt from Michael Gordon's Timber performed by members of Sō Percussion and Yarn/Wire. Followed by Pauline Oliver's Tuning Meditation led by Jason Treauting. Up next, Jen Shyu performed excerpts form her newest solo ritual music drama Nine Doors. We were proud to present the 2017 L +L Composers Competition winning piece spero lucem by Nina C. Young was performed by Ensemble Échappé. Critically acclaimed Sō Percussion performed the New York premiere of Paul Lansky's Springs*. Lara Pellegrinelli was our graceful host for the evening and engaged in conversation with Žibuoklė Martinaitytė, Jen Shyu, Nina C. Young and Paul Lansky. The evening ended with the world premiere of the 2017 Look + Listen Commission, Žibuoklė Martinaitytė's Unique Forms of Continuity in Space**, performed by Yarn/Wire.
The backdrop for this evening included works from the 29th Annual Contemporary Art Education Exhibition titled This Land Is …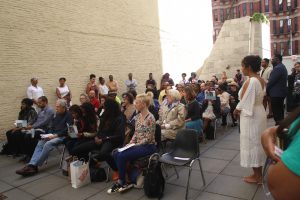 Our last concert took place in the courtyard of the The Studio Museum in Harlem. Our first outdoor concert ever! Long time L+L friend Terrance McKnight curated and hosted this awesome concert. First, Craig Harris and the Saints and Aints Brass Choir presented Harris' Substance to the Rumor. Phyllis Chen then led Pauline Oliveros' Tuning Meditation. We then welcomed SkyMusic Ensemble performing three pieces by Carman Moore: the world premiere of Raindance and Morning Mystique, Think in A New Way, and Righteous Heroes; Sacred Spaces. The Festival concluded with The Saints and Aints Brass Choir performing Craig Harris' Deep Thought Music.
On display in the courtyard was a wall installation entitled Collected (Flamingo George) by Adam Pendleton. Inside, was the beautiful and powerful exhibition of Rico Gatson's Icons 2007-2017.
*Springs has been made possible by the Chamber Music America Classical Commissioning Program with generous funding provided by the Andrew W. Mellon Foundation and the Chamber Music America Endowment Fund.
** Unique Forms of Continuity in Space is a Look + Listen commission, with support from the New York State Council on the Arts.